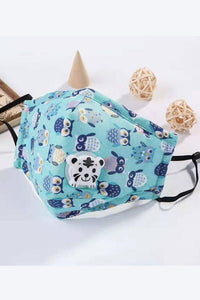 Kids - Cotton Fashion Masks Washable and Reusable Protective Non-Medical Face Covering Funny Owl Printed Blue 2-pack
Regular price $25.00 $15.00 Sale
Click here

to check out the

size chart

before placing your order.
Kids Printed Rabbit protective fabric face masks 2pcs/pack
1, Eco-friendly: washable and reusable
2, Protection from dust, smog, droplet, odour,  etc. 
 3, Non-medical: this mask is not intended for medical use, and not proven to reduce the transmission of disease. 
4, Inserted activated carbon filter: each mask comes with two filters
5, Breathable valve: to make it easier to breathe for long periods of wear and protection
6, Adjustable elastic ear loop: for a comfortable fit
7, Nose bridge: adjustable bending amplitude to fit a variety of face types. 
8, Hand wash before first use. Cotton fabric may shrink after wash. Suggested hand wash and air dry. 
9, Due to sanitary reasons, all masks are final sale and cannot be returned. 
10, For kids 5-12
11, Each pack includes: 2 face masks and 4 filters. You can choose to use the filter or not. Using the filter offers a better protection. Keep dry after every use. Each filter can be used for 7 days.
For every pack of masks sold online in Canada, we are donating one to local communities in need.
Wearing masks is our shared responsibility to protect each other and reduce community transmission. Let's Mask Together and show support for those combating this crisis on the front lines. Please continue to practice social distancing, washing your hands and refraining from touching your face. Due to the charitable component of the product, this item is excluded from all promotions.
Stay at home and stay safe. When you go in public, please always wear a mask  to protect yourself and others as well.